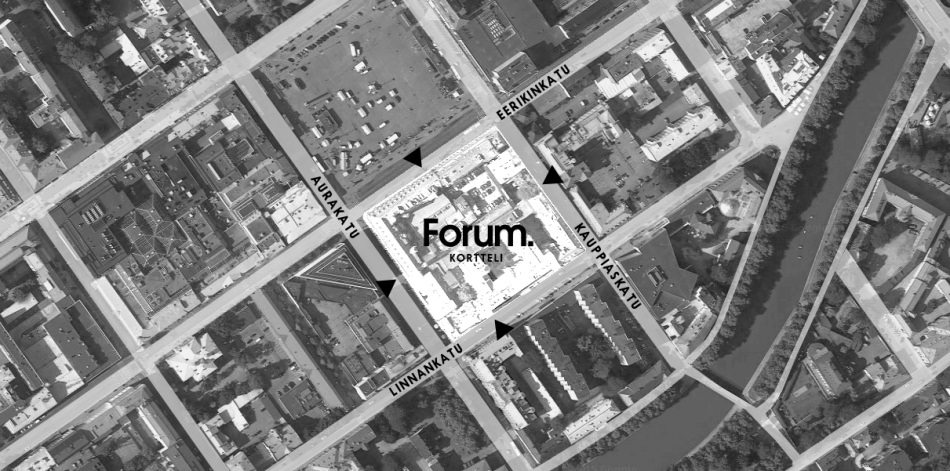 Forum Kortteli is a shopping center located in the heart of Turku, right across the street from the Kauppatori marketplace. Entrances to the center can be found on all 4 streets surrounding the block: Eerikinkatu, Aurakatu, Linnankatu and Kauppiaskatu.
STORES AND SERVICES:
11. Hetki – One of the best known hair- and beautysalons in Turku offers a wide range of services
Clas Ohlson – A home store in which you can find everything: tools and building supplies, stationery, electronics…
Cosmic Comic Cafe – Beer and comics – a legendary hangout and bar in Turku
Gryn – bakery and cafe
Kokoo – A construction paradise for all ages in the centre of Turku.
Pho Ngon – Vietnamese cuisine – one of the best ethnic restaurants in Turku
Pop Shop – Interior decoration and gift shop
PUF – An innovative marketplace specializing in Finnish designers and brands
Punainen Norsu – Finnish design label producing ethical clothing for children and adults
Tonfisk Shop – The globally known finnish design label makes beautiful ceramics, located adjoined to Pop Shop
Vegekauppa – Vegetarian and organic food store
Woobs – Wooden sunglasses designed in Finland
Zoom Hair and Beauty – Hairdressing services in the center of Forum
KultaViljaset – A clocksmith & clockstore
Mandragora – Tea, coffee and chocolate
Dama Design – Handmade fashion for women
Kukuti – Children's clothing store
Saarni gentlemen's boutique – Men's clothing
Kaisla – ecological clothing
Casagrande – The classic toy store in Turku
Vaatepuu – Women's fashion library
Smallstore – Delicacy store
Herrain pukimo – Men's clothing
Vg Noodle – Vegetarian and vegan thai food
Punaisen norsun ompelimo – Dressmaker
Rainio Design – 3D printing and design
Club ray Turku – Game experiences
handmade by Kotona – Handmade interior design
OPENING HOURS
MON-FRI 7:00-20:30
SAT 7:45-18
SUN 11-18
information: info@forumkortteli.fi
GETTING THERE
A majority of the city buslines stop right outside Forum on Eerikinkatu and Aurakatu. Street side parking is available on Kauppiaskatu and Linnankatu, as well in the Louhi parking center.